SOFTWARE FÜR ADS-B DONGLES
RTL1090 Software-Download- und Link-Seite für unsere älteren Softwarelösungen.
Jetvision unterstützt ADS-B Dongles für Starter und fortgeschrittene Benutzer. Die Software auf dieser Seite wird nicht mehr gepflegt oder untertsützt. Die Software Versionen sind schon älter und es gibt keine Garantie oder Gewährleistung. Sie können die Programme downloaden, teilen und die Pakte für ihre eigenen Zwecke verwenden. Es gibt von uns keinen Support für die installation, Fehlersuche oder bei sonstigen Problemen. Unterstützung bieten einige Foren im Internet. Wir habe einige verlinkt. Wir danken für ihr Verständnis.
Wenn Sie Interesse an professionelle ADS-B Empfängern, 1090 MHz Antennen, MLAT Server und FLARM haben, besuchen Sie unsere Website und den Shop.
Besser als jede ADS-B Dongle Lösung
Voll ausgestattet mit allen Funktionen. Kartendarstellungen, Range Diagramm, Status Seiten, Mehrbenutzerzugriff und Multilateration (MLAT).Flightradar24, FlightAware, OpenSky Network Feeder um Ihren bestehenden Account zu nutzen.

Software Downloads und Links

RTL1090 Software
Version 1
Die Originalversion für Planeplotter, Flightradar24, Virtual Server, ADS-Scope, Globe-S RTL und andere ADS-B-Software. Diese Version wird nicht mehr unterstützt. Sie darf nicht für MLAT GS / MU-Zwecke im Planeplotter-Netzwerk verwendet werden.

RTL1090 - IMU
(Installer and Maintenance Utility)
Dieses internetbasierte Dienstprogramm hilft Ihnen bei der Einrichtung einer vollständigen RTL1090-Installation, ohne dass ein manueller Eingriff erforderlich ist. Es lädt die relevanten Dateien automatisch als rtlsdr.dll, zadig.exe herunter und hilft bei der Konfiguration von Zadig mit einem integrierten Lernprogramm. Platzieren und starten Sie das Dienstprogramm einfach im Zielordner der RTL1090 (verwenden Sie keinen Ordner "C:/Program", um Administrator-Probleme zu vermeiden).

RTL1090.EXE VERSION 2
Built (103)
Dies ist die grundlegende stabile Exe-Datei von RTL1090 in Version 2. Wenn Sie IMU verwenden, ist kein Download erforderlich, es sei denn, IMU macht Schwierigkeiten.

RTL1090 "SCOPE"
Dies ist eine Beta-Version von RTL1090 V3 "SCOPE". Entpacken Sie die Dateien in Ihren aktuellen RTL1090-Installationsordner und starten Sie rtl1090.beta3.exe. Bitte beachten Sie die README-Gebrauchsanweisung. V3 behält die volle Abwärtskompatibilität zu V2 und kann für MLAT-Zwecke usw. als V2 verwendet werden. Es fügt lediglich einen Bereich und einige zusätzliche Funktionen zu V2 hinzu.

YAHOO RTL1090 USER GROUP
Gruppenbeschreibung:
RTL1090 ist eine DVB-T-Dongle zu Mode-S-Konverter-App. Unterstützte Dongles: RTL2832U-Schnittstelle + Tuner: E4000, R820T (letzteres bevorzugt) Entwickelt für Windows (beliebige Version). Mode-S und Mode A/C-Dekodierung mit TCP-Server. Datenausgabe mit Beast Binary- oder AVR-Codierung, kompatibel mit Planeplotter, einschließlich MLAT-Fähigkeit Mit der MAX / MIN-Funktion können Frequenzbandflanken und Empfangslücken getestet werden. Vollautomatischer Betrieb. Flugliste Multi-Dongle-Betrieb.

RTL1090 FAQ
RTL1090 FAQs auf dieser Seite.

Installation
Operation
PLANEPLOTTER + RTL1090

RTL1030 Software
Variabler Frequency Daten Analyzer und 1030 MHz Dekoder, inklusive SISEX (signals-in-space explorer)

RTL-UVD
740 MHz Russian SSR data receiver and decoder

RTL-DUO
Dual 1090 MHz Empfänger und
ADS-B/Mode-A/C/S Dekoder
Screenshots of RTL1090 GUI
Most frequent questions and answers
Planeplotter & RTL1090 FAQ (en)
Configure in the I/O options as below: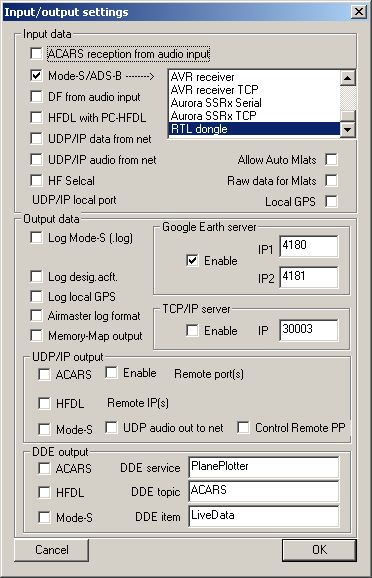 Dont forget to press the green button in Planeplotter!