SOFTWARE FOR ADS-B DONGLES
RTL1090 software download and link page for our historical software solutions.
Jetvision provides ADS-B dongles for starters, hobbyists and enthusiasts. All software products on this page are NOT supported anymore.. All software versions are from the past and we give no warranty. You can download, share and use this software packages for your own environment. Remember, there is no support for installation, troubleshooting or other issues. For any assistant and help there are some forums in the internet. We we have some links for that. Thanks you for understanding.
If you are interested in professional ADS-B receivers, 1090 MHz antennas, MLAT server and FLARM, visit our website and shop.

Software Downloads and Links

RTL1090 Software
Version 1
The genuine version for Planeplotter, Flightradar24, Virtual Server, ADS-Scope, Globe-S RTL and other ADS-B software. This version is depreciated. It must not be used for MLAT GS/MU purposes in the Planeplotter network.

RTL1090 - IMU
(Installer and Maintenance Utility)
This internet based utility helps you with setting up a complete RTL1090 installation with almost no manual intervention. It automatically downloads the relevant files as rtlsdr.dll, zadig.exe and helps to configure zadig with a built in tutorial. Just place and start the utility in the RTL1090 target folder (do not use a "C:/program" folder to avoid administrator problems).

RTL1090.EXE VERSION 2
Built (103)
This is the basic stable exe file of RTL1090. If you use IMU there is no need for a download, unless IMU encounters difficulties of some kind.

RTL1090 "SCOPE"
This is a beta release of RTL1090 V3 "SCOPE". Unzip the files to your current RTL1090 installation folder and start rtl1090.beta3.exe. Please observe the README instructions for use. V3 retains full downward compatibility to V2 and can be used for MLAT purposes etc. as V2. It just adds a scope and some additional functionality to V2.

YAHOO RTL1090 USER GROUP
Group Description RTL1090 is a DVB-T dongle to Mode-S converter app . Supported dongles: RTL2832U interface+tuners: E4000, R820T (latter preferred) Designed for Windows (any version). Mode-S and Mode A/C decoding with TCP server. Data output encoded by Beast Binary or AVR Coding, compatible to Planeplotter, including multilat capability MAX/MIN function can test frequency band edges and reception gaps. Fully automatic operation. Flight list. Multi-dongle operation.

RTL1090 FAQ
RTL1090 FAQs on this page.

Installation
Operation
PLANEPLOTTER + RTL1090

RTL1030 Software
Variable frequency data analyzer and 1030 MHz decoder, includes SISEX (signals-in-space explorer)

RTL-UVD
740 MHz Russian SSR data receiver and decoder

RTL-DUO
Dual 1090 MHz receiver and
ADS-B/Mode-A/C/S decoder
Screenshots of RTL1090 GUI
Most frequent questions and answers
Planeplotter & RTL1090 FAQ
Configure in the I/O options as below: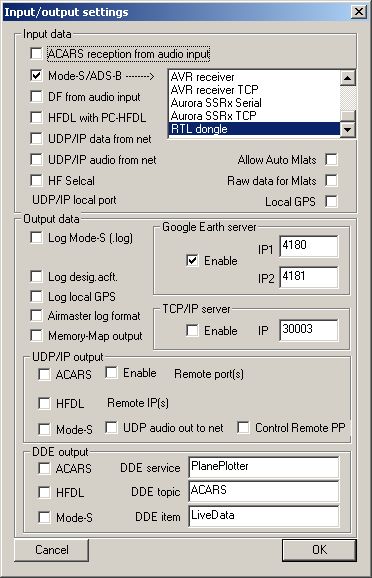 Dont forget to press the green button in Planeplotter!